Futuro Health Medi-Cal Peer Support Training Will Help Fill the Mental Health Worker Pipeline
Our Latest Blog: What We Can Learn from Education Icon Sal Khan and His Innovations
Meet Jordan and Erik, Medical Assistant Training Graduates
Futuro Health Speakers Bureau
Futuro Health in the News
WorkforceRx Podcast: Dr. Tom Mitchell, Carnegie Mellon University impact of artificial, Episode 46: The Impact of Artificial Intelligence on the Workforce: Listen Now
What's Your WorkforceRx? Expert Video Series
Futuro Health Launches Medi-Cal Peer Support Specialist Certification Training. New program will help fill the mental health worker pipeline.
The pandemic has significantly exacerbated pre-existing mental health conditions, resulting in an unprecedented demand for behavioral health services. As the gap widens between those in need of mental health services and the shortage of workers to serve them, Futuro Health is helping to bridge that gap by offering a self-paced learning program for those interested in a Peer Support Specialist (PSS) career.
Peer support specialists have lived experience navigating mental health diagnoses and services through their personal recovery process, or as a parent or family member of someone with mental health or substance abuse issues. "This is a true win-win for everyone," said James Timmons, Futuro Health Peer Support Specialist Coach. "Research suggests that incorporating peer support into behavioral health treatment programs can improve outcomes for individuals and their families, as well as opening the door for many new individuals to pursue a career in behavioral health, often leading to jobs in communities where access to mental health services is limited."
Medi-Cal coverage of peer support specialist services follows many years of advocacy efforts led by peer-run organizations, behavioral health professionals, and other stakeholders. Their work culminated last year with the passage of Senate Bill (SB) 803, professionalizing vital peer support roles to fill the needed gap in the behavioral health care continuum.
Futuro Health's PSS program was developed by behavioral health experts, and focuses on cultural competency, addiction recovery, trauma-informed care, mental health, and substance use, providing needed training to prepare for the Medi-Cal Peer Support Certification Exam on the pathway to a fulfilling career in behavioral health. Futuro Health's PSS coursework began October 1st, with ongoing start dates. Training is available tuition-free for peer workers with CalMHSA approved scholarship vouchers referred by county mental health and/or substance abuse disorder programs. Click here to learn more.
From Our Blog: What We Can Learn from Education Icon Sal Khan and His Innovations
What Makes Sal Khan an Education Disruptor All-Star? Mastery-based learning will no doubt become a best practice in the future landscape of workforce development as workers struggle to pace with the rate of technology ingestion. All of us will need more strategies to accelerate our attainment and demonstration of new skills. Read our latest blog on innovation in the workplace, featuring examples of learning tools pioneered by Sal Khan and used by 135+ million people from over 190 countries.
Futuro Health Speakers Bureau
Futuro Health Team Members are frequent speakers and presenters at conferences, symposiums, panel discussions and employer events across the country, covering an array of topics related to workforce development, training and education, opportunities in allied health, healthcare worker shortage solutions, and more. Check out these recent and upcoming events featuring Futuro Health expert speakers:
Meet Jordan and Erik, Medical Assistant Training Graduates
Take a peek into the lives and work of Medical Assistants Jordan and Erik, as they share their experiences in their new careers in healthcare, their daily work, and how they are giving back to their communities.
Futuro Health in the News
WorkforceRx Podcast
Dr. Tom Mitchell, Carnegie Mellon University
Episode #46: The Impact of AI on the Future Workforce
On this episode of WorkforceRx, Futuro CEO Van Ton-Quinlivan is joined by Dr. Tom Mitchell of Carnegie Mellon University, one of the world's leading experts in the field of artificial intelligence. When it comes to the impact of artificial intelligence on the workforce, there is still a major split between those who worry about "robots" replacing workers, and those who think employees will benefit from AI if it is harnessed the right way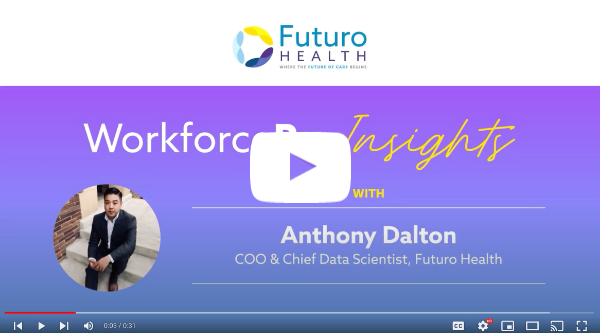 WorkforceRx Insights with Anthony Dalton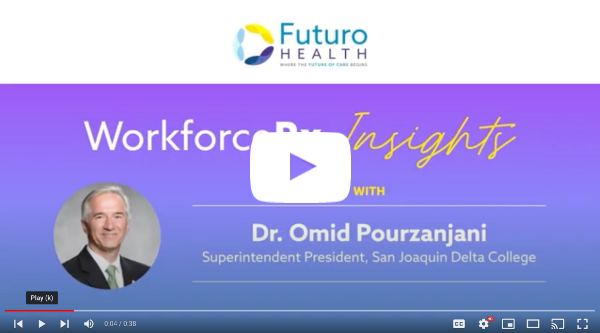 WorkforceRx Insights with Omid Pourzanjani
About Futuro Health
Futuro Health is a non-profit organization focused on improving the health and wealth of communities by growing the largest network of healthcare workers in the nation.
Futuro Health makes education journeys into allied health careers possible by growing the talent that employers need and creating a path to opportunity that workers want.