Solving Workforce Shortages is not an Individual Sport:  What Healthcare Needs to Do Differently
We all know how deep and severe the demand for nurses and allied health workers grew over the course of the pandemic. We still live it. From the skyrocketing cost of traveling nurses to addressing how telework impacts culture and employment tenure, there are a multitude of recruitment and retention challenges facing the healthcare workforce.
How do we fill vital allied health roles in a reliable and inclusive way? Van Ton-Quinlivan, CEO of Futuro Health, and Jeff Weiss, Founder and Managing Director of Center for Corporate Innovation (CCI), explore solutions and innovations.
Crafting Workforce Solutions with the Central San Joaquin Valley K-16 Partnership
On May 26, 2022, the Fresno State Foundation, on behalf of the Central San Joaquin Valley K-16 Partnership, was awarded an $18.13M grant by the California Department of General Services. With this award, the macro-regional partnership will support and share the resources necessary to reimagine race equity, diversity, and inclusion in education and the workforce as they serve K-16 students and adult learners.
Futuro Health is proud to be a part of the partnership, working alongside the Fresno-Madera K-16 Collaborative and the Tulare-Kings College + Career Collaborative (TKCCC), to strengthen our region's leadership educational, vocational, and workforce programs and encourage education-to-workforce pathways in allied health.
"Intentionally linking education and training to workforce needs is socioeconomically imperative for the success of our students and adult learners. The region has growing healthcare needs and offers living wage jobs – we need to grow a workforce who come from our communities to fill those jobs," states Karri Hammerstrom, Executive Director of the Fresno-Madera K-16 Collaborative. "We appreciate the agility and sector expertise brought by Futuro Health to help us craft workforce solutions that weave in our local and other education partners and accelerate what we need to do as a region."
Board of Supervisors Designates Futuro Health Day in San Diego
The San Diego Board of Supervisors issued a proclamation recognizing Futuro Health as an organization "dedicated to the best ideals of public service" and deemed June 14 as "Futuro Health Day" in San Diego. Presented by Supervisor Terra Lawson-Remer, the proclamation also recognized Futuro Health's commitment to providing career exploration and coaching and education financing to diverse adult learners.
"Futuro Health is working with Karen Connolly (Director of Workforce Programs in Healthcare) and Peter Callstrom (President and CEO) at San Diego Workforce Partnerships to connect San Diegans to training opportunities in allied healthcare tied to great careers throughout the region," said Joy Hermsen, Director of Innovative Partnerships for Futuro Health. "We're honored to work with them to bring health equity and access to education to a diverse audience."
State's Peer Support Specialist Program by Futuro Health Launches July 1
In a win for healthcare advocates and gain for the field of behavioral health, California now recognizes Peer Support Specialists as a reimbursable service and has established a statewide set of core competencies for training these occupations. Futuro Health has been named a state-approved provider of Peer Specialist Support training, providing a solution to the workforce needs of the state and nation.
Futuro Health's CalMHSA-approved program emphasizes hope, recovery, and wellness. Our program focuses on cultural competency, addiction recovery, trauma-informed care, and mental and substance use. Other highlights:
Enrollment is simple and you can start immediately
Prepares you for a career as a Peer Support Specialist, Recovery Peer Specialist or Recovery Peer Support
80-hour self-paced and online program
Practice group facilitation and self-care skills
Developed by public and behavioral health experts
Designed for learners who have overcome addiction or a mental disorder or are close to someone who has
Coming soon–July 1.
Student Spotlight
Ama B. wanted a fresh start in a new career. Feeling disconnected from the pandemic, he turned to family and friends for what to do next. A friend employed at a local healthcare facility recommended allied health programs offered through Futuro Health, and Ama saw an opportunity to combine his knowledge of computers with the growing job market for healthcare workers.
WorkforceRx Podcast
Ron Painter, CEO of the National Association of Workforce Boards
Episode #40: Helping American Workers Be Their Best
As the unprecedented misalignment in the U.S. labor market between employers and workers continues, it's a good time to take a look at the extensive federal infrastructure in place to support people seeking jobs and skills. Millions of Americans access 2,400 American Job Centers located throughout the country and its territories every year, which are powered by a network of 500 Workforce Development Boards. On today's episode of WorkforceRx, Futuro Health CEO Van Ton-Quinlivan sits down with Ron Painter, CEO of the National Association of Workforce Boards, to explore the vital role they play in advancing economic opportunity. "Workforce Boards bring together the players you need in that region -- housing, transportation, economic development, community-based organizations, faith-based organizations -- that's a unique mix wherever you are. There's a whole lot that makes that equation work." Check out this informative discussion to learn how communities are leveraging this network to bring about economic opportunity, why local Boards need more flexibility, and to understand why Painter is optimistic about meeting the unprecedented challenges facing employers and workers.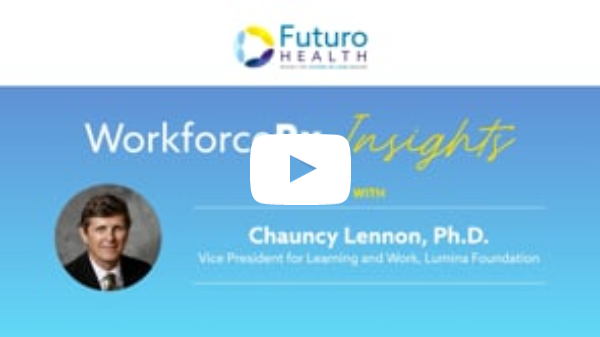 Chauncy Lennon, Ph.D. - Vice President for Learning and Work, Lumina Foundation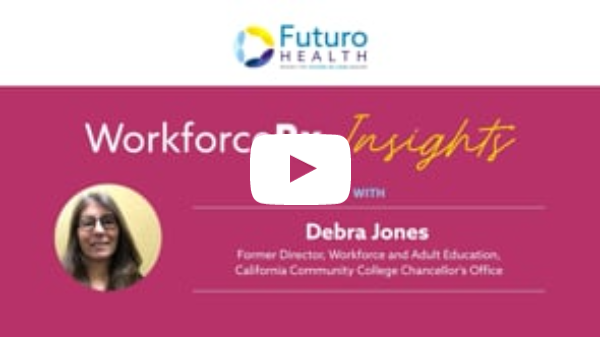 Debra Jones - Former Director, Workforce and Adult Education, California Community College Chancellor's Office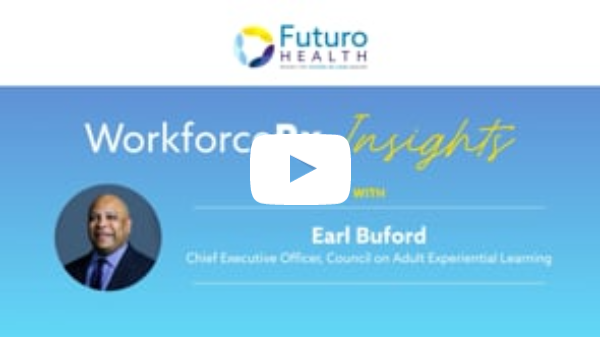 Earl Buford - Chief Executive Officer, Council on Adult Experiential Learning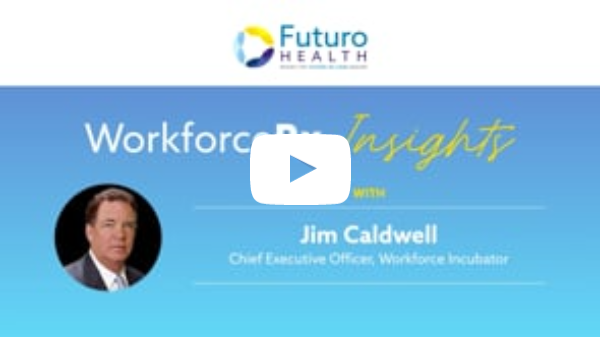 Jim Caldwell - Chief Executive Officer, Workforce Incubator
About Futuro Health
Futuro Health improves the health and wealth of communities by growing the largest network of allied health workers in the nation starting in California. We make education journeys into allied health careers possible by growing the talent that employers need and creating a path to opportunity that workers want.