Futuro Health Rallies Community-Based Organizations to Meet Healthcare Workforce Needs.

Our Latest Blog: Filling the Mental Health Worker Pipeline Amid a Growing Crisis
Futuro Health Student Spotlight: Katy W.
Futuro Health Speakers Bureau

Futuro Health in the News

WorkforceRx Podcast: Episode 44: Jane Oates, President of WorkingNation: Eliminating "Buts" In The Hiring Process: Listen Now

What's Your WorkforceRx? Expert Video Series
Futuro Health Rallies Community-Based Organizations to Meet Healthcare Workforce Needs
An estimated 11 million people in California live in areas that are experiencing an acute shortage of healthcare and social services providers. These underserved communities are often isolated geographically, psychosocially, or culturally. Nonprofit community-based organizations have become increasingly important local resources for residents of these communities, providing access to healthcare services, education, technology, and information.
Guided by our mission to improve the well-being of all communities by growing the largest network of allied health workers in the nation, Futuro Health invites community-based organizations to bring economic opportunity to their communities by filling careers in care.
La Familia Counseling Center is the newest community-based organization to partner with Futuro Health, training those interested in careers in medical assisting. For more than 40 years, La Familia has successfully operated programs providing multicultural counseling, outreach and support services to low income, at-risk youth, and families in Sacramento County.
"Community-based organizations are trusted advocates for their residents," said Joy Hermsen, Director of Innovative Partnerships with Futuro Health. "Given the enormity of workforce shortages across care roles, working together can ensure equitable and better health outcomes for those who reside in these underserved communities."
Alexis Dumonchelle is the Evaluations and Learning Manager for Shine Together, a community-based organization serving young mothers who are aiming to obtain a high school diploma, GED, or Certificate of completion. Upon completing high school or the equivalent, Shine members are eligible to participate in post-secondary education and career options through Futuro Health, with a focus on the Medical Assistant Program and on Behavioral Health Microcredential training for community-based jobs in San Jose/Milpitas, Fresno, and Sacramento.
"Our mission is to create opportunities for families to have economic advancement," said Dumonchelle. "Through our partnership with Futuro Health, our parents are able to create a future for themselves and their families by mitigating barriers and embracing their education."
In Santa Clara County, The Health Trust serves approximately 10,000 residents annually, most of whom are residents of color with limited financial means, providing food and nutrition services, housing services, and case management for people living with HIV/AIDS.
The Health Trust recently partnered with Futuro Health to develop the next generation of diverse case managers who have training in behavioral health. "To advance our mission of building health equity in Silicon Valley, case managers participate in Futuro Health's training while continuing their employment, gaining timely knowledge and skills that will help them better serve our clients with complex needs," said Michele Lew, Chief Executive Officer of The Health Trust.
To explore workforce collaborations, contact us at parntership@futurohealth.org.
From Our Blog: Filling the Mental Health Worker Pipeline Amid a Growing Crisis
It's difficult to solve the big issues when there are missing pieces to construct the solution. A key piece is always the workforce necessary to do the work. A skilled workforce is one of those building blocks that enables and, when not available, certainly hinders progress.
The lack of mental health workers isn't confined to rural America. In California this week, the San Diego Workforce Partnership issued its own call to action by highlighting the importance of adding more skilled workers as a solution to the mental and behavioral health issues within its own densely populated county lines.

The Workforce's new report: Addressing San Diego's Behavioral Health Worker Shortage, emphasizes the need to fill the mental health worker pipeline by educating, training, attracting, employing, and retaining 18,500 additional professionals between 2022 and 2027 to meet the anticipated behavioral health and addiction treatment needs for residents of San Diego County. According to the report, the worker shortage in San Diego County spans a range of titles, some trained through certificates that can be attained under one year, while others require advanced degrees.
Read the entire blog here
Futuro Health Speakers Bureau
If you have an event with healthcare employers, reach out to us to at mwakely@futurohealth.org. Check out these upcoming events featuring Futuro Health expert speakers.
The Health Improvement Partnership of Santa Cruz County will present its Annual Community Forum, "Growing our Own: Cultivating Health Career Pathways in Santa Cruz County," noon to 2 p.m. Wednesday, Sept. 14 at Monschke Hall, Twin Lakes Church, Aptos.
WorkforceRx: Agile and Inclusive Strategies for Employers, Educators and Workers in Unsettled Times. A book conversation with author Van Ton-Quinlivan, former executive vice chancellor for the California Community Colleges.
Join Futuro Health CEO Van Ton-Quinlivan for insights on proven workforce development strategies in multiple sectors. Futuro Health CEO Van Ton-Quinlivan headlines the Connecticut Workforce Summit, hosted in partnership with ReadyCT, CONNSTEP, and Social Venture Partners Connecticut October 6 at the AquaTurf Club in Plantsville.
Futuro Health Student Spotlight
Katy W. was working as a behavioral health manager at Asian Health Services when the agency switched from in-person to telehealth patient care. The president recommended she and a coworker learn additional skills by earning a telehealth certificate offered through Futuro Health— and Katy was thrilled to upskill in her career.
Katy signed up for Futuro Health's online, tuition-free Advanced Telehealth Coordinator Certificate Program offered by our partner the University of Delaware, where she trained for 15 weeks in the practical, technical, and business aspects of delivering telehealth services. Katy had prior experience with online courses after completing her master's in social work, so she quickly adapted to the self-paced comprehensive instruction.
"Online makes it a lot easier to manage. It's very doable for a full-time working person," Katy says.
Futuro Health in the News
How Can We Free the Data to Support Community College Improvement? - New America
WorkforceRx Podcast
Jane Oates, President of WorkingNation
Episode #44: Eliminating "Buts" In The Hiring Process
On this episode of WorkforceRx, Futuro CEO Van Ton-Quinlivan is joined by Jane Oates with WorkingNation, a non-profit focused on educating the public and policymakers about achievable solutions to prepare workers for the future, among the topics discussed are providing opportunities for those with disabilities to back into the workforce and programs for single moms trying to finish their two-year degree.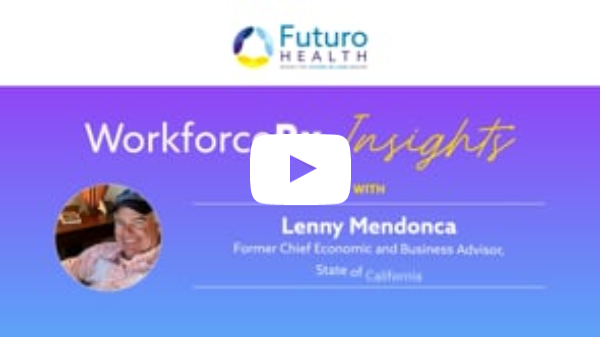 Lenny Mendonca, Former Chief Economic and Business Advisor, State of California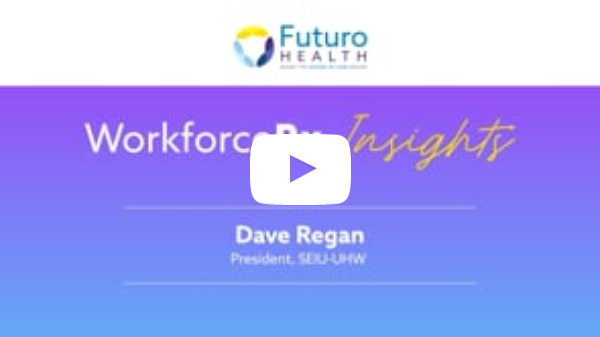 Dave Regan, President, SEIU-UHW
About Futuro Health
Futuro Health is a non-profit organization focused on improving the health and wealth of communities by growing the largest network of healthcare workers in the nation.
Futuro Health makes education journeys into allied health careers possible by growing the talent that employers need and creating a path to opportunity that workers want.