This Month's Highlights
Enjoy!
Van Ton-Quinlivan,
CEO Futuro Health
Futuro Health Launches New Job Marketplace
Employers and Futuro Health are joining forces to facilitate student transition to work with the recent launch of the Futuro Health Job Marketplace. By connecting available employment opportunities, the Job Marketplace adds another tool that employers can use to solve their workforce challenges with diverse, credentialed candidates for their in-demand jobs.
Programs Actively Taking Enrollment
Community Health Workers Gain Historic Recognition In Governor Newsom's May Revise
An unprecedented investment proposed within Governor Gavin Newsom's May Revise marks renewed appreciation for Community Health Workers (CHWs). Soon-to-be classified as a Medi-Cal covered service, CHWs will have greater access and opportunities to improve patient care in underserved communities. Anticipating the state and federal emphasis on equitable care, Futuro Health offers tuition-free scholarships for qualified adults seeking to become Community Health Workers with Behavioral Health Emphasis. Applicants welcome.
Care Coordinators: Easing the Burden on America's Emergency Rooms
When a lack of insurance meets a lack of healthcare providers, the result is overcrowded and underserviced emergency rooms. That has certainly been the case for disadvantaged communities, and the patients who rely on ERs for ongoing, non-emergency care. Futuro Health seeks to mitigate this issue by growing the number of Care Coordinators in the workforce to better serve at-risk communities. Current credentialed healthcare workers wishing to consider careers in Care Coordination should apply for tuition-free opportunities to gain new skills.
Showcasing What Inclusive Recruiting Looks Like
There's no better persons to scout future healthcare workers than current ones. Watch this video to understand how Futuro Health's partner, SEIU-UHW, inclusively invites the community to consider allied health careers.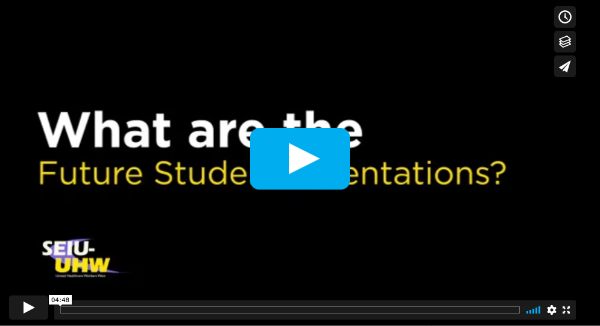 Workforce Rx Podcast with Byron Auguste, Founder and CEO of Opportunity@Work
Episode #18: Seeking Skilled Workers? Look to the STARs.
Finding qualified workers has become a chronic and deeply concerning struggle for U.S. employers, but as Byron Auguste, a PhD economist and former White House economic policy official, sees it, this is a self-inflicted problem. "When you exclude people who don't have a bachelor's degree, you're excluding almost 70 percent of African-Americans, 80 percent of Latino and Latina workers, and almost 80 percent of rural Americans of all races," he says.
That's why the non-profit he co-founded and leads, Opportunity@Work, is asking employers to dip into the overlooked talent pool of the 70 million Americans who are Skilled Through Alternative Routes (STARs). "This is the golden age of new ways to learn new skills, and yet you have these very old, backward-looking bases for hiring. We need to have hiring to catch up to learning."

Other Recent WorkforceRx Podcasts
Episode #17
Join Futuro Health CEO Van Ton-Quinlivan for an insightful exploration of emerging ideas in education, training, tech and public policy .
Episode #12
If you've wondered how AI and other innovations are impacting patients, you'll want to check out this dynamic conversation with Futuro Health CEO Van Ton-Quinlivan.
Episode #9
Tap into the knowledge gained from national network of business, education and labor leaders to share the most effective formulas for economic development .
Episode #4
If you want to know how employers are changing their thinking about educating workers in the wake of COVID, Jaime Fall is in a great position to tell you.