As the Nation Grapples with a Mental and Behavioral Health Crisis, Futuro Health Named by California as a State-Approved Provider to Grow Peer Support Specialists: Learn More
Mental Health Month Shines Spotlight on the Need for More Trained Workers
What's Your WorkforceRx? Expert Video Series
Student Spotlight: Meet Damien R.
WorkforceRx Podcast: Episode 39: Free the Data
As the Nation Grapples with a Mental and Behavioral Health Crisis, Futuro Health Named by California as a State-Approved Provider to Grow Peer Support Specialists
In a win for healthcare advocates and gain for the field of behavioral health, California now recognizes Peer Support Specialists as a reimbursable service and has established a statewide set of core competencies for training these occupations. Futuro Health has been named a state-approved provider of Peer Specialist Support training, providing a solution to the workforce needs of the state and nation.
While Peer Support Specialists caregivers with lived experience with the process of recovery from mental health or substance use challenges – have existed in our healthcare system for years, Senate Bill 803 went a step further by validating the position, bringing the certification process to the state level, and opening the service to an additional funding stream.
"The pandemic has been emotionally taxing on every person," said Lucero Robles, the Quality Assurance and Compliance Director for California Mental Health Services Authority (CalMHSA). Robles said that the legislation recognizes the importance of Peer Support Specialists after years of advocacy from the peer community. Their "peerness" is being seen now as a very crucial part of helping others, Robles explained. "They're better able to engage individuals."
Mental Health Month Shines Spotlight on the Need for Trained Workers
At the center of the nation's mental health crisis is a severe shortage of mental and behavioral health-trained providers. According to the U.S. Department of Health and Human Services, over one-third of Americans live in designated Mental Health Professional Shortage Areas, areas that have fewer mental health providers than the minimum their population would need. The historical challenges in recruiting and retaining these and other essential health workers have been exacerbated by the COVID-19 pandemic. Recent studies indicate elevated levels of burnout among health care workers, along with depression and other mental health challenges. For families with someone in crisis or individuals who need help, that means months of wait time before a first appointment.
The demand for healthcare professionals to support the mental/behavioral health challenges facing the nation is more critical than ever. To grow and retain this workforce, affordable and accessible educational programs must prepare diverse workers to serve these critical behavioral health roles within their own communities. Futuro Health's behavioral health-related programs begin to do just that by growing the entry-level workforce.
"Our board decided early on to invest in occupations that can support the behavioral health needs of communities and focus initially on those roles that can be trained in less than a year's time," explains Van Ton-Quinlivan, CEO of Futuro Health. "We know the need for masters-level trained professionals is acute, and while they remain in short supply, paraprofessionals will be needed on the care team."
Learn More About Our Programs
Peer Support Specialist Program - coming July 1st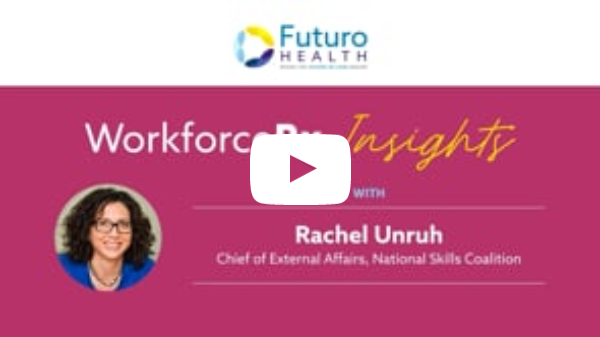 Rachel Unruh, Chief of External Affairs, National Skills Coalition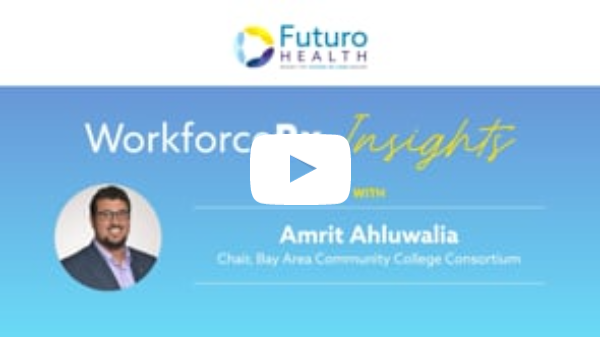 Amrit Ahluwalia, Editor In Chief at The EvoLLLution: A Modern Campus Illumination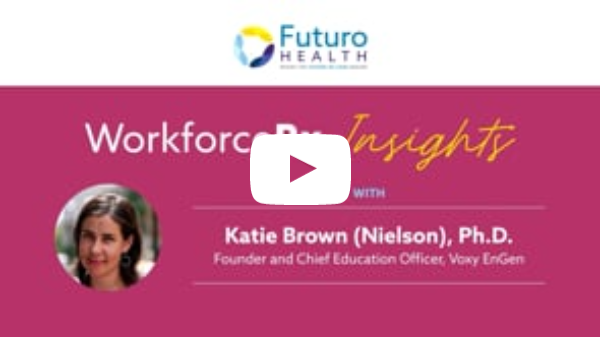 Katie Brown (Nielson), Ph.D., Founder and Chief Education Officer, Voxy EnGen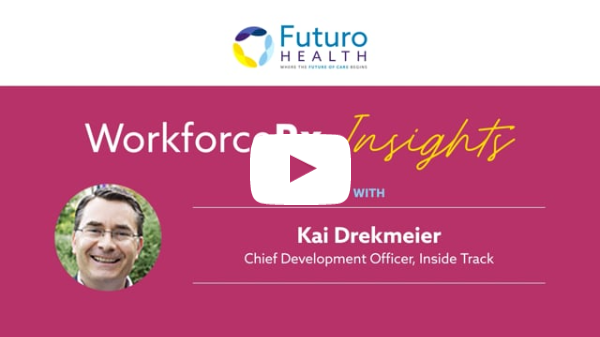 Kai Drekmeier, Chief Development Officer, Inside Track
Student Spotlight
Damien R. was well on his way to completing an x-ray technician program in Tennessee when the state Board of Education halted the program's funding. Thrown off guard, Damien returned to California and joined Futuro Health's Health IT Specialist program, which gave him the opportunity to merge his passion for health care and computers. Today, Damien works remotely for a medical call center, where he assists people with internet programs, navigating websites, and online password help. He is excited for the opportunity to continue growing in this role, and for what may be coming next.
WorkforceRx Podcast
WorkforceRx Live Book Launch
Episode #37: Free the Data
Van Ton Quinlivan, CEO of Futuro Health and host of the show, is also author of the best-selling book, WorkforceRx: Agile and Inclusive Strategies for Employers, Educators and Workers in Unsettled Times. In this episode, Van welcomes leading workforce and economic development experts to discuss the strategies and insights from Chapters Nine and Ten that resonated most with them. Check out their lively discussion about freeing and sharing data within an organization to guide improvements; building infrastructure to help gig workers thrive; the role of labor unions in scaling solutions to workforce challenges; adopting a shared ownership model to overcome inequality in income and assets, and much more from this powerful new playbook for the future of work.
Joining Van are: Omid Pourzanjani, Superintendent and President of San Joaquin Delta College; Anthony Dalton, Vice President & Chief Data Scientist at Futuro Health; Kathy Booth, Project Director at WESTED; Ann Volk, Senior Director at Alvarez & Marsal; Sara Skvirsky, Research Director at the Institute for the Future; Dave Regan, President of SEIU-UHW; Howard Brodsky, CEO of CCA Global and Lenny Mendonca, Former Chief Economic and Business Advisor for the State of California.
About Futuro Health
Futuro Health improves the health and wealth of communities by growing the largest network of credentialed allied health workers in the nation starting in California. We make education journeys into allied health careers possible by growing the talent that employers need and creating a path to opportunity that workers want.