eConnection November 2022
Education-to-Employment: Futuro Health Expands Partnership with Employers to Meet Workforce Demand
Our Latest Blog: Speaking Out - The Healthcare Workforce Crisis
Meet James Timmons, Futuro Health Instructor and Peer Support Specialist Coach
Futuro Health Student Spotlight: Meet Jessica O.
Futuro Health in the News
WorkforceRx Podcast: Robert Espinoza, Executive Vice President of Policy at PHI, Episode 50: The Direct Care Crisis Hits Home. Listen here
What's Your WorkforceRx? Expert Video Series
Education-to-Employment: Futuro Health Expands Partnerships with Employers to Meet Workforce Demands
New research conducted by McKinsey& Company shows the critical gap for workers has driven many employers to rethink their approach to human capital and talent management, moving beyond degrees and job titles to focus more on the skills a job requires and that a candidate possesses. Since 2020, Futuro Health has been successfully bridging the allied health workforce gap by bringing over 8,000 diverse adults back into higher education to train across 19 offerings hosted by 65 different education partners and their campuses.
As healthcare employers begin to look outside their organization to augment their recruitment pipelines, Futuro Health has been proactively expanding its employer partner ecosystem and implementing best practices in workforce development, including consulting with employers on their evolving workforce needs and applying data science to continue the Futuro Health Scholar journey from education-to-employment.
CVS Health Workforce Initiatives has helped thousands of people in underserved communities overcome barriers to employment and access meaningful job opportunities by strategically partnering with federal and state agencies, community groups, and other organizations, including a new partnership with Futuro Health to provide additional training opportunities for those interested in pursuing a career as a Pharmacy Technician. According to the Bureau of Labor Statistics, the job outlook for Pharmacy Technicians is projected to grow substantially over the coming decade.
"We are thrilled to be collaborating with Futuro Health to create diverse talent pipelines of Pharmacy Technicians across our enterprise while giving Scholars an opportunity to gain exposure to a variety of career pathways within pharmacy and healthcare. We look forward to expanding beyond pharmacy careers in the future," said Melanie Kramer, Senior Manager, CVS Workforce Initiatives
"Partnering with CVS Workforce Initiatives has afforded our Futuro Health Scholars the opportunity to complete externships at local CVS retail pharmacies in-state, as well as the chance to apply for an apprenticeship with CVS. This expansion of our training program will enhance our program participants' skills, employment opportunities, and retention," according to John Cordova, Director of Workforce Development and Clinical Partnerships for Futuro Health.
With more than 11 million residents of California living in areas experiencing an acute shortage of healthcare and social services providers, nonprofit community-based organizations (CBOs) have become increasingly important local resources for residents of these communities. Guided by our mission to improve the health and wealth of communities by growing the largest network of allied health workers in the nation, Futuro Health partners with a growing list of CBOs to fill needed local jobs in these underserved communities and help ensure equitable and better health outcomes.
La Familia Counseling Center is just the latest CBO to partner with Futuro Health with a focus on training those interested in Medical Assisting careers. For nearly 50 years, La Familia has successfully operated programs providing multicultural counseling, outreach, and support services to ethnically diverse families and individuals from across the Greater Sacramento region who have been marginalized or left behind.
"We have a strong and strategic partner in Futuro Health. Through their Medical Assistant training program, participants can enjoy a quick road to graduation, work as a team, and grow into a career that will benefit them as individuals while also supporting the community where they live, work and play," said Rachel Rios, Executive Director, La Familia Counseling Center. "Futuro Health Medical Assistant program graduates can start building their career very quickly and will gain incredible satisfaction comforting patients and working in a specialized role."
With plans to generate innovative and comprehensive solutions, Futuro Health and Dignity Health Global Education (DHGE) recently announced a new partnership to develop healthcare workforce pathways from education-to-employment and advancement.
It is estimated that by 2025, the United States will have a gap of between 200,000-450,000 nurses available for direct patient care. Futuro Health's partnership with DHGE intends to create more tuition-free entry points into the nursing path for jobs that are strategically aligned with California's future healthcare employer trends and to work closely with those employers to customize student training to meet their organizational skill set requirements.
The new partnership will build upon the success of recent collaborations between Futuro Health and DGHE, including co-developing a Community Health Worker with Behavioral Health (CHW/BH) Program. Futuro Health provided inclusive access to flexible and scalable training for more than 200 students debt-free since the CHW/BH program's launch last year.
"Our latest collaboration with Dignity Health Global Education will focus on the breakdowns in the workforce pipeline," states Van Ton-Quinlivan, CEO of Futuro Health. "Our best practices can combine in novel ways and surface scalable solutions that pay attention to diversity and the skills needed for workers to be relevant."
To explore workforce collaborations with Futuro Health, contact us at parntership@futurohealth.org.
Our Latest Blog: Speaking Out - The Healthcare Workforce Crisis
In our latest blog, Van Ton Quinlivan, Futuro Health CEO, shares perspectives from her many speaking engagements across the country to employer groups, national organizations, and education- and workforce-based organizations, highlighting best practices from her book: Workforce Rx: Agile and Inclusive Strategies for Employers, Educators and Workers in Unsettled Times to inspire action. Although states have their differences, what they have in common is a shared pain around their shortage of healthcare workers. While the need for physicians and nurses has been widely publicized, the shortage of allied health workers too often goes overlooked. Van's book drew from her years of experience in the private, public, and now nonprofit sector refining best practices in workforce development. Doing speeches to Wyoming, DC, NY, Connecticut, Colorado, and California audiences helped her understand which workforce challenge, which stories, which solutions best resonates. Let us share with you what themes states have in common.
Meet James Timmons, Futuro Health Instructor and Peer Support Specialist Coach
Futuro Health launched a self-paced learning program for those interested in a Peer Support Specialist (PSS) career - an important role in support of rising mental health challenges post pandemic. Developed by behavioral health experts, Futuro Health's Medi-Cal Peer Support Specialist program focuses on cultural competency, addiction recovery, trauma-informed care, mental health, and substance use, providing needed training for a fulfilling career in behavioral or mental health to guide others to positive outcomes.
"Incorporating peer support into behavioral health treatment programs can improve outcomes for individuals and their families, as well as opening the door for many new people to pursue a career in behavioral health, leading to jobs in communities where access to mental health services is limited," according to James Timmons, Futuro Health Peer Support Specialist Coach.
Watch our latest video to learn more about becoming a Peer Support Specialist and hear James' inspiring personal story of choosing a career to empower others to achieve recovery.
Futuro Health's Medi-Cal Peer Support Specialist program is currently available tuition-free for peer workers with CalMHSA approved scholarship vouchers referred by county mental health and/or substance abuse disorder programs.
Meet Jessica O.
Jessica O. was working at as a Program Manager at Kaiser Permanente, when she heard they were embarking upon a new partnership with Futuro Health. The goal was to foster and develop important workforce skills, particularly in the field of innovation and technology in healthcare—which happened to be Jessica's area of focus.
Futuro Health in the News
WorkforceRx Podcast
Episode 50: In this episode of WorkforceRx, Futuro CEO Van Ton-Quinlivan is joined by Robert Espinoza, executive vice president of policy at PHI, where he oversees its national advocacy and public education division on the direct care workforce. Every day, nearly five million direct care workers support older adults and people with disabilities across the United States, and the critical need for this workforce is only increasing as the proportion of people over sixty-five continues to grow dramatically. Robert discusses potential solutions for the shortage including boosting worker pay, stronger training requirements and tapping into the undocumented immigrant population.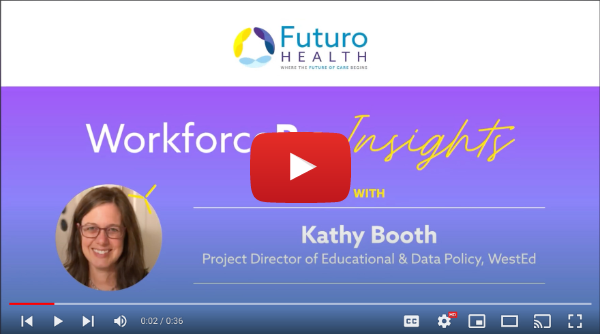 WorkforceRx Insights with Kathy Booth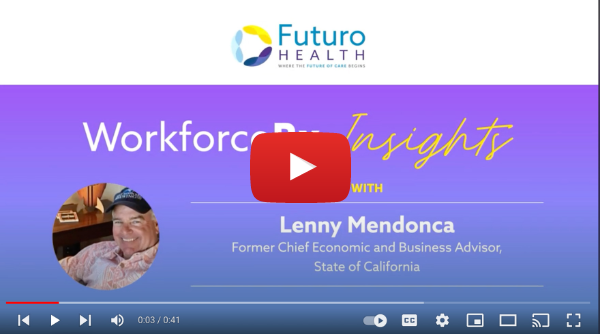 WorkforceRx Insights with Lenny Mendonca
About Futuro Health
Futuro Health is a non-profit organization focused on improving the health and wealth of communities by growing the largest network of healthcare workers in the nation.
Futuro Health makes education journeys into allied health careers possible by growing the talent that employers need and creating a path to opportunity that workers want.